"Annouce your Website with a colorful banner!"
Great for open houses, trade shows, town festivals, or simply hang it in the office. Just give us your web address and we'll take care of the rest. Choose from, 5 sizes, 9 font colors, and 5 fonts. Our artists will do the rest. Within 10 days, your banner is on its way to you. It's that simple and check out our low prices!. For specialty pricing, email us your specifications and we'll send you back a quote.
Banners are Versatile, Affordable and Reusable
Here's What You Get:
Full color printing on one side
FREE Typesetting
Durable 12 oz. White Vinyl stock
Hems on sizes larger than 4′ x 4′
Grommet corners
Tube-shipped
1 year outdoor life
SHIPS IN 10 DAYS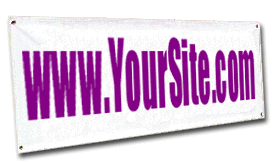 All banners are 2 feet high with optional lengths listed below. Letter height is relative to space available on selected banner length . Average letter height is 17″ high.
Banners
Fonts Choices
IMPACT
ARIAL BLACK
TIMES BOLD
GARAMOND BOLD
COMIC SANS BOLD
Sizes and Pricing
Length 4 feet – $ 95.00
Length 5 feet – $ 110.00
Length 6 feet – $ 135.00
Length 7 feet – $ 155.00
Length 8 feet – $ 165.00
Font Colors
*font colors are presented in RGB and may not accurately represent final printed font color.

Add a FULL COLOR logo or photo.
We can print your logos or photos with no problem, "If " we get the correct file from you. It's all about resolution. We need to print out your logo at a minimum of 100 DPI at the final size. Any less will produce a blurry, pixilated image. There is an additional $40.00 charge for printing images.
What does this mean? Lets say your image is going to be 15″ inches high on the banner and the original file is 5″ high, it needs to be at least 300 DPI because we are going to enlarge that file 300%. If the original file is 8″ high and going to be enlarged 200% it should be 200 DPI. Get the picture? It's the same with logo files.
Vector images and most eps files are fine at what ever size they are. They enlarge without loosing quality. Need us to scan your photo for you? Scans from photos are $50.00 each, includes return shipping cost. We will send you a copy of the file for your future projects as well.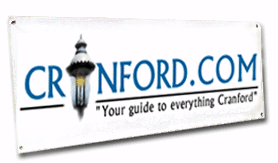 If your banner has over 50% ink coverage there is a surcharge of $15.00. Feel free to call us with any questions or request.
Sorry, banner samples are not available.