At Printing Services, we understand that your print projects are vital to your business. That's why we take your printing business very seriously. We define success by our ability to produce high-quality printed pieces in a cost-effective, efficient, and timely manner.
To accomplish this, Digital Printing has assembled a variety of powerful, state-of-the-art lithographic production equipment. Printing Services can accommodate your print run of less than 1,000 up to 1,000,000, in a professional, cost-effective manner.
Annual reports
Catalogues
Brochures
Postcards
Posters
Newsletters
Artist's prints
Folders
Promotional pieces
Advertising reprints
Direct mail pieces
Paperboard packages
Catalog sheets
Book covers
Dust jackets
With Printing Services Online, you can expect the very highest quality product that technology and experience can deliver. If you want crisp, sharp, clear images – Online Printing Services is the printer for you.
Our clients include a strong base of advertising agencies, graphic designers and a broad spectrum of corporate clients.
These businesses have come to rely on Printing Services for superior digital prepress services for point-of-sale, collateral, advertising and visual merchandising projects.
Digital Printing
Digital Printing:
Preflighting
High-quality color drum scanning
Color separations
Digital color correction and retouching
High-resolution assembly
Film & digital proofing services
Large format film (seamless, single-piece large format final film up to 30″ x 40″)
OPI Swapping
Duplicate archiving
All formats of media accepted
SWOP Standards
For faster turnaround, as a Print Services client you can submit your job directly into your own assigned private directory on our internet server utilizing our high speed internet lines.
After over 91 years of working in the graphics and printing industry, we know the importance of meeting turnaround times and tight deadlines. Our team works hard to be on time every time.
At Printing Services our professionals understand that details matter. We employ all of our resources with the intent to produce your carton correctly according to your expectations every time on time. Our commercial packaging services include:
Gluing
High speed gluing and case packing
Windowing
Right Angle
Multi-fold corner gluing
Cutting
Sheet fed
Laser die manufacturing
Laminating
Embossing
Printing
Sheet fed offset Lithography
We know there is much more to packaging than just the conversion of paperboard to a folding carton. We will take your concept and work with it structurally and/or graphically until you are satisfied with the solution. For customer communication we make use of technologically advanced high-speed digital lines. We provide state of the art 5 color printing equipment, high gloss varnish, die cutting embossing, laminating and gluing to provide you the best carton for the job at the most economical price possible.
Continuous improvement is our quality mission and every Printing Services employee is committed to supplying quality products to every one of our customers. Whether your requirements are small (less than 1,000) or large (up to 500,000), Printing Services is willing and able to service your needs.
Our screen printing division has been providing "Quality" screen printing since 1946. Screen printing services are perfect for POP signs, displays, banners, table tents, posters, decals, vehicle markings, OEM applications and many more uses. We can print on many different types of substrates to meet all your project needs – from single color to four-color process. Our complete digital capabilities allow us to output your files directly up to 50″ wide. Additionally, we provide everything from retouching and separations to trimming, mounting, laminating, packing and shipping.
There are many applications where screen printing is more advantageous than other forms of printing. Even non-conventional substrates such as wood, vinyl and foam board can easily be utilized in screen printing.
Alpha & numeric characters
(with or without diecut)
Acetate bags & pouches
Acrylic & lexan badges
Acrylic parts
Award certificates
Banners
(cloth, vinyl, tyvek, polyethylene)
Binders
Book Covers
Calendars
Cautionary decals
Charts
Coroplast signs
Corrugated displays
Counter cards
Decals
Direct mail packaging
Displays
Dump bins
Envelopes
Erasable boards
Fabric Face-on decals
Face plates
Flags
Floor Graphics
Folders
Hanging signs/Mobiles
Headers
Instructional decals/signs
Luggage tags
Magnets
Maps
Menu covers
Murals
Name tags
Overlay panels
Padded envelopes
Pegboards
Plaques
POP materials
Postcards
Posters
Reflective decals
Retail signs
Rulers
Sales aids
Scratch-off games
Shelf tags & talkers
Shopping bags
Signs
Static cling decals
Templates
Tent cards
Toppers
Tote bags
Vehicle markings
Window decals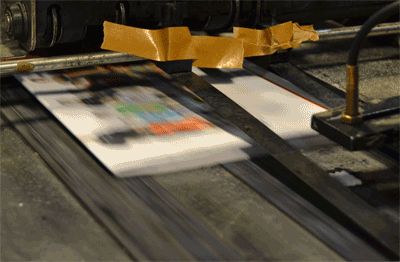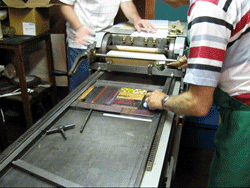 Printable Surfaces
Acetate, acrylic, aluminum, cloth, vinyl, tyvek, polyethylene, binders, book covers, coroplast, corrugated, cardboard, foam board, gator board, masonite, nylon, paper, plastic, lexan, rhino board, styrene, static cling, transvinyl, pressure sensitive, wooden surfaces, melamine boards
Inks
Custom matched standard, dayglo, UV, phosphorescent, chalkboard and scratch-off inks
Finishing Services
Hole drilling, round cornering, eyelets, grommets, electronic, cutting, premasking, consecutive numbering, mounting, scoring, folding, hemming


Fulfillment Services
We will custom package complete kits to meet a requirement. We will even package other items with your printed material and ship the kits as needed to a single or multiple locations.
A print job isn't finished until it's bound and delivered. That's why Online Printing Services includes full-service bindery, shipping, and mailing departments.
Printing Services bindery offers many custom services not available everywhere; the shipping department utilizes the most economical, trackable, on-time delivery methods available; and Printing Services mailing services range from the ordinary to the extraordinary.
With services like these, you can count on Printing Services to get the job done right, from printing to delivery.
Bindery Services
Printing Services wants your print job to be complete, correct and on time. Finishing your job in our bindery services is critical to that time line. Our bindery service does whatever it takes to always make your delivery dates.
Trimming
Die-cutting
Folding
Foil stamping & embossing
Film lamination
Gluing
Stitching
Perfect binding
Spiral binding
Eyeletting
Complete package preparation

Since the equipment doesn't run itself, the Printing Services bindery services will be hard at work doing whatever it takes to meet your deadlines and exceed your expectations.
Shipping
A beautiful print job completed on time is of no value to you unless it is in your hands when you need it, where you need it. That's why Printing Services takes shipping seriously. Our goal is to provide our customers with cost-effective, on-time delivery every time.

Printing Services utilizes the most economical, trackable, on-time delivery methods available. That's why we partner with companies like Federal Express and UPS. We find that automated on-line shipment tracking gives us and our customers peace of mind. We can tell you instantly when your job was shipped, where it currently is, when and where it was delivered, and who signed for it … all with a few keystrokes.
For local and regional customers, Printing Services didn't want to rely only on third-party package delivery. So, we invested in our own fleet of trucks and drivers. This way, we can provide our customers the most flexible, dependable, and cost-effective delivery possible. It all comes down to great customer service. It's what customers have come to expect from Printing Services.
Mailing Printing Services
Printing Services, has a full-service mailing service to meet the needs of our customers. All of your printed pieces can be printed, addressed and mailed in small or large quantities using these services.
Printing Services mailing services continues to grow to meet the customizing, addressing, and mailing demands of our customers, whether for a few hundred pieces or several hundred thousand pieces. Our mailing services range from the ordinary to the extraordinary. Since we know that mail deadlines are important to you, our mailing services will be hard at work doing whatever it takes to meet your deadlines and exceed your expectations.

Digital Printing Services
Printing Services is in the communications business. That's correct, a printer in the communications business. You see, we understand your need to communicate your company's brands, products, and services to your customers. In today's marketplace, how you communicate your message has become a lot more complicated.
You keep hearing terms like "integrated marketing" and "digital brand building," but what do they mean to your company? Printed catalogs and brochures have always worked in the past, but maybe you need to look at some additional mediums like interactive CD-ROMs, electronic catalogs, and the World Wide Web.
The bottom line… You need to communicate a cohesive, consistent, "knock your socks off" message that gets noticed by your current and potential customers. To accomplish this, you may need more exposure besides print to insure you are heard above the noise.
That's where Printing Services can help. You see, Printing Services is an integrated supplier of communications services. Our unique value to you is this: we can orchestrate precisely timed planning and delivery of your integrated message via print, CD-ROM, and the Internet. We'll make sure your message makes it to market precisely when your products do and precisely where your customers are looking.
Internet Printing Services
More and more customers are turning to the Internet for information about your company and its products, not to mention on-line real-time information tracking (such as Fed Ex electronic package tracking) and buying and selling on the Web. To have an effective web site, your Internet message should be consistent with your print and other communications, and these messages should compliment each other.
Let Printing Services professionals show you the power of technology at work in Web sites with impact. Today, Internet sites are a lot more than text and pictures. Technologies such as integrated audio, Adobe Acrobat, video, animation and database integration are all within your reach. We are committed to assisting you in a thorough understanding of all the technologies we can offer you before we work together on planning your Web site.
Our services include complete planning, design and maintenance of your Web site. If you prefer, we can assist you in any single phase of your development. We are ready to grow with you. No site is too big or too small for Printing Services.
Publishing Electronic Documents with Adobe Acrobat
Have you ever thought about how your printed documents could work for you in digital form? If you haven't, you are not alone. However, many companies are discovering the power of digital publishing with Adobe Acrobat. Distribute your documents easily and electronically via email, CD-ROM, the Internet, your Intranet, or internal servers.
You can rely on Printing Services to prepare and convert your printed documents for electronic distribution. Contact a sales representative with any questions.