Welcome to Printing Company, the official website of BCE International. BCE's goal is to provide "works of art" in full-color for our business clients that want high quality business cards without having to pay hundreds of dollars for their cards. Our clients take advantage of the lower costs of volume printing. We use only the highest quality coated 12 pt. cardstock and provide a special over-coating to protect your cards.
About Our Printing Services Company
Our in-house designer, Chuck Glaus, is known as "the world's nicest guy." Chuck goes the extra mile when it comes to helping his clients to be successful by creating outstanding full-color business cards for them.
Chuck is a native of southern California and is highly regarded for his impressive design work all throughout the country. He works with dozens of other graphic designers nationwide, helping them to learn how to design exciting and effective full-color business cards that can be commercially printed. If you are a professional designer that resells business cards, please see resellers .
Printing Services Company
Chuck will help you create a completely custom design for only $65 an hour (a deposit may be required). Once you have your card design, you can reprint your cards over and over for only $49 per 1000 full color cards. You can also use the same layout for other employees/co-workers for as little as $20 including their personal information and photo!
However you found us, you're at the right place at the right time! We believe you won't find any better value in premium quality full-color business cards than you will at Printing Services Company. Whether you're a graphic designer or someone that needs custom design assistance, you can benefit from volume printing with us. Our head designer, Chuck Glaus has decades of experience as a graphic designer and loves to create beautiful full-color business cards for business people. If you're a professional graphic designer, Chuck can take over once you've created your card design.
Premium Quality Printing
Your cards will be printed on 12 point glossy coated one-side cardstock which you'll usually find only in cards costing $100 or more for 1000 business cards. Our printing partners have some of the most high-tech offset printing presses available and the results are exceptional.
Extra services that we offer at no additional cost include printing in black & white on the back. We also provide a special clear coating over your cards to protect your cards from fingerprints and wear. These are additional things that normally cost a lot of money!
Turnaround time
We typically can provide a design for you (if required) within 2-3 days. We will send you a proof in full-color via email. As soon as we get a signed proof and payment from you via credit card or check, turnaround time is typically 7-10 days plus shipping time. If you are in a hurry, contact us and we may be able to accommodate you.
"You can be assured that there will be more business coming from both myself and others that I will recommend to you as a result of your courteous and satisfactory service! Keep up the good work!" – Patrick L.
Business Cards – Premium full-color business cards on 12 point, glossy coated (C1S) cardstock. Full-bleed cards at no additional cost. Printing on back in black and white optional, also at no additional cost. Clear aqueous overcoat included. Printed on a multi-million dollar full-color Heidelberg printing press for excellent quality! 2-3 week turnaround.
We are a member of Printing Industries of St. Louis, Inc. Our clients include a strong base of advertising agencies, graphic designers and a broad spectrum of corporate clients. Here at Printing Services, we have assembled a highly skilled and motivated team of professionals. In combination with state of the art equipment we have been able to satisfy the needs of these demanding markets. Our commitment to technology is evidenced by this web page; we have installed our own web server and high-speed internet line. Our purpose in doing this was to close the gap between customer and vendor. Today, Printing Services is as close as your computer, no matter where you are. With our ability to receive your files electronically via the internet, no longer do you need to send files overnight, keep track of your disks or most importantly use up a day of the ever shortening time allowed for a project in our industry. We literally can output film the same day as you send it to us!
In conclusion, we invite you to use our services. We have developed this site with the intent that it will be used as a tool to simplify working with us. It is our goal to become the marketplace's preferred choice by continually improving our procedures and talents.
Now, Printing Services is as close as your computer. No more SyQuests. No more Zips. No more FedEx.
With Printing Services's new file transfer services, you can send us your files the same day, via our high-speed Internet connection. And it couldn't be easier. With the click of your mouse, your files are on their way to Digital Printing Services!
Files sent to Printing Services are private and secure, protected by your own user name and password.
Three Easy Steps to Conducting Business With Us Via the Internet
1. Fill Out the Prepress Services and Instruction Form
2. Upload Your Files Onto Our Server
3. Send us the following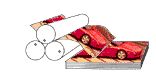 File Preparation Guidelines
Provide accurate, up-to-date lasers

Mark color break information
Note imported files
Clearly mark corrections to be made

Provide information regarding the disks, programs, and file types

Note whether disk is Mac or PC
Note programs used, including version numbers
Print a directory of the disk(s)

Check to see that files are set up correctly

Imported pictures should be the correct size and resolution
Pictures should be CMYK (not RGB or Indexed Color)
Imported graphics should be at 100% size
All fonts (screen and printer) should be included on disk
TrueType fonts are not supported (where possible, change to outlines)

Note any work to be done by Printing Services Company

Note FPO's for scaling and cropping
Request appropriate proofs prior to final output
Note final printer specs
Note what sort of separations are desired

We will need a print copy of your requested job. This can either be faxed to us, or you may create a Adobe Acrobat file (.pdf) of your job and upload it with all the other files.
Always include printer and screen fonts. TrueType fonts are not supported.