Door Hangers
WebCards now offers printed full-color, glossy Door Hangers to serve as a great reminder to attract off-line attention to your online presence. Great for getting the word out locally. This full color image will certainly get the attention of the customers. Leave a strong one to one impact. Realtors, politicians, local entertainment and merchants love them. Many larger accounts canvas the area hotels at trade-shows and conventions. Looking for a response from the reader? The back of the card can be set up as a business reply. Just like Web Cards you can supply your artwork or have our artist capture your images online. See our samples.
We'll help you set up your cards (often while we look at your site with you) at no extra charge and post a proof on line for you to check out. Set up usually takes about 48 hours (excluding weekends and holidays). After your approval, your order is shipped in approximately 10 days.
Prices start at $285 for 500 printed door hangers. To the right is our price list. Please ask us about quotations for larger quantities.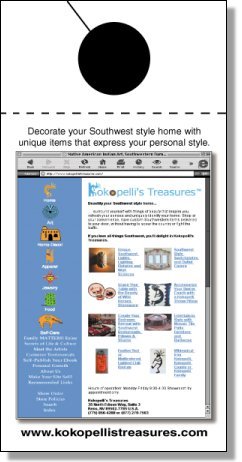 Door Hangers
| | | |
| --- | --- | --- |
| Qty. | Full Color Front |  Back Side Printing |
| 500 | $285 | +$45 |
| 1000 | $315 | +$60 |
| 2000 | $445 | +$80 |
| 3000 | $505 | +$100 |
| 4000 | $620 | +$120 |
| 5000 | $685 | +$140 |
| 10000 | $1515 | no charge |
Editing Charges:
One of our Web Cards artists will be assigned your card for layout. ( If you have any specific comments about your cards layout, please call us or email us. It's best to address them on your original order.) Your artist will use their experience to set up your card in the most effective layout. They will then send you an email with the URL for you to see your first proof, so you can approve it for printing or email your artist any corrections in layout, design or typos you have discovered. Its important that you proof read everything at this point. We will then revise your card and post a new proof at no charge.
Note: additional editing after this 2nd proof is chargeable at $20.00 a session.
Fold-Over Cards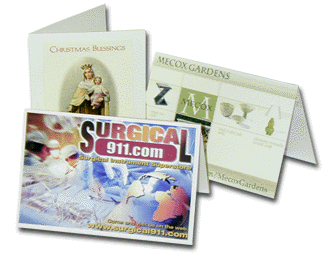 In this age of cyber-communications, a handwritten note is very special. You can use fold-over cards for Thank You Cards, Holiday Cards, Invitations or Business Greetings. Cards can be made from Web Images or other digital images. You can supply us with Quark, Illustrator or Photoshop files or we'll help you set up your card at no additional charge. Cards measure 5.375″ x 8″ and are scored for easy folding to 4″x5.375″. They are printed on heavyweight 12 pt. coated one side card stock. Messages can be printed on the inside (non-coated) in black ink at a slightly higher charge or they can be left blank.
| | | |
| --- | --- | --- |
| Quantity | Front/Outside Printing | Inside Printing |
| 500 | $175 | +$45 |
| 1000 | $225 | +$60 |
| 2000 | $305 | +$80 |
| 3000 | $385 | +$100 |
| 4000 | $460 | +$120 |
| 5000 | $535 | +$140 |